Two experiences last week renewed my confidence that the future is in good hands.
On Monday, I went over to the University of Kentucky's Gatton College of Business and Economics at the request of Professor Tom Pope. He asked me to speak to his Personal Financial Planning class. Interestingly, this is the first time the course has been offered at UK and it appears to be wildly successful. This class is comprised of 47 seniors and graduate students studying accounting and finance. Only a couple of the students are expecting to become professional financial planners. Most were taking the class to learn how to plan for themselves and loved ones. I asked about their top financial concerns for their generation. Not too surprising, the first response was debt management (student loans are very real to them) and the second was the viability of retirement plans, especially governmental benefit plans such as Social Security and the state retirement system. By the way, if you haven't seen the new building at the business school, you should go have lunch in the student lounge and have a look around. What a learning environment!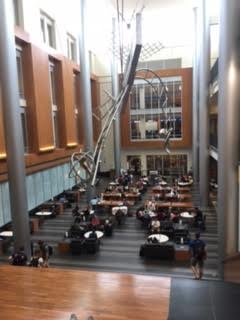 My second boost of confidence came when I attended the Kentucky Society of CPAs 2017 Spring Awards Banquet honoring Scholarship recipients, successful candidates from the CPA exam, and new Certified Public Accountants.  I went to support our newest hire, Michael (Mike) Wagner, who was recognized with an Award of Excellence for having the high score on one or more sections of the CPA exam. He was also recognized because he successfully completed all of the exam and will qualify for certification upon completion of the experience requirement. I got to meet several of Mike's friends, some of whom were also award winners and candidates from around the state.
This was a mighty impressive gathering of exceptional talent.  It felt good to be in the room with such brainpower.
Scott
April 30, 2017